Surely the most powerful social commentary to come from a music video in quite some time...
Dizzee Rascal "Sirens"
dir. by W.I.Z.
There is an ongoing debate in the UK over so-called "anti-social youth" who are identified by their penchant for wearing "hoodies." Many public places, such as shopping centers and pubs, have
banned
hooded customers from entering their establishments. The case is made that gang-bangers and criminally minded kids prefer hoods, primarily because they conceal faces and make it harder for witnesses to identify them later. But most adolescents argue that "hoodies" are simply comfortable and fashionable attire, and that it's unfair to punish the whole for the actions of a few. Thus the "hoodie" has become a symbol of the cultural divide between the older and younger citizens of England.
W.I.Z.'s music video for Dizzee Rascal's "Sirens" is loaded with vibrant imagery, but one of its most quietly potent ideas centers around Dizzee's choice of attire. The hooded jacket he wears (and is forced to remove) is about more than a conflict between young and old though, it's the fear of the unknown itself. It's about those in power being afraid of "difference," of what they don't understand and can't see. And it's about exploiting those in a weaker position without concern for the long-term effects it has on society at-large.
Then of course there is the monumental foxhunt, which heightens the power of the video with piercing surrealistic metaphors. The uniform of choice for these men and women is the same tight red coats hunters in England have been wearing for centuries, an equally loaded symbol of status and class. These "sportsmen" break down Dizzee's door as he casually works on music with his brother (or son). Remember that the video begins with peaceful silence, there is no sign of any "anti-social" youth out for havoc in the night
until
the hunters lure the "fox" out of its hole.
W.I.Z. constructs every frame with an obsessive attention to detail. Dizzee walks by a wall spray-painted "only cowards steal from the poor." Later the galloping horses pass a yellow sign that reads "Smile! You're on CCTV" - implicating the government in this witch hunt. And when Dizzee reaches out to a woman for help, she turns him away while we notice a "Neighborhood Watch" sticker on her window. The look in her eyes is an assumption of guilt - a hooded black man turns up at her window asking for help (even if she knows who he is) and she has no intention of letting him in.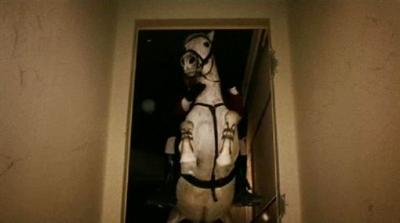 Race is of course a major factor in this equation. What is really hidden under that hood is Dizzee's black skin, his dark unknown face. When he removes his coat the director cuts to a shot of a women sensually admiring his body, and it isn't just about the sexualization of the black man's physical form. It's the power gained from reducing a human to a literal slab of meat - the thrill of seeing your intense fear thrown out in the open, vulnerable and weak. A type of blood lust.
It was common practice to rub the blood of the captured fox on the cheeks and forehead of the newest member of the hunt. Thus the cycle of discrimination and class mentality is easily passed along to the next generation. Yet on the other side Dizzee's young friend also witnesses the absurdity of the scene, and is now destined to be one of those "anti-social" youths. Dizzee is paranoid about "the sirens coming" precisely because he knows he is a target of law enforcement by default, the hood is almost a necessity.
But this cycle of fear and difference originates in higher and older places than the London city police. The young lady who receives the celebratory blood on her face is wearing a necklace with a small gold replica of the Queen's crown. Foxhunting itself is believed to be an off-shoot of the "royal" game of stag-hunting, which the Queen herself still plays to this day (thanks for that
Helen Mirren
). What greater symbol of the continued influence of class divisions on British society than the still (uselessly) present Royal Family?
On one of the horses that chase the black Dizzee Rascal down the street, W.I.Z. zooms in on a bundle of rope hanging from the white rider's saddle. We may not want to remember what upper class fear of difference and exploitation of the weak has led to in the past, but it's no coincidence the head of a foxhunting group carries the chilling title of "master." It's the most subtle and daring statement in a video chock full of them.