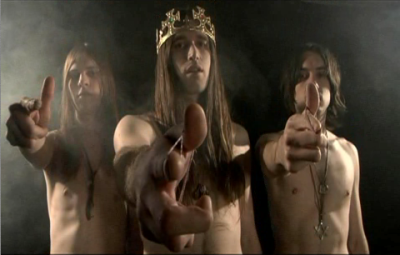 The Willowz "Evil Son"
dir. by Ace Norton
Last time we saw The Willowz, they where moving at the speed of light in
"Jubilee"
. For this video director Ace Norton slows things down, emphasizing the lyric, "I lose my mind now and again," capturing the strange things people do when given time to kill. Yet the irony is that great music is often made in the same way. The Willowz are thus celebrating the mundane and overlooked activities of the day, highlighting the unrecognized value of every moment and daydream in life. Whether it's simply a feeling of happiness or an excursion into the absurd, we actually require this strangeness to keep ourselves
sane
.
Shirtless, wearing that crown and singing with a verifiable twang - they also seem to be challenging Kings of Leon for that whole "southern-fried rock" throne. Luckily they're music and their videos are already
better
.